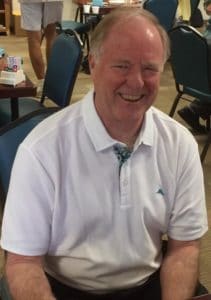 Mentoring: Transfers

(Beginner and Advanced Beginner)
Instructor: Gary Waldron

Thursday Morning June 17
9:00 – 11:30 AM
Fee: $10

BONUS: Also receive a FREE PLAY to use in any NLM live afternoon game between June 17 and July 17!
No partner needed
If you think you already know all there is to know about transfers, think again. Gary will walk you through some of the more perplexing hand patterns, including those pesky ones with long minors, and he will give you tools to make the best decisions. Also learn the biggest transfer of all, from the great state of TEXAS!
A Mentor will be at each table to facilitate using the new material and to give you tips as you bid and play prepared hands. Hand records will be available.
Please email Maggie Briskie ASAP to reserve your spot and so that she can arrange the right number of volunteer mentors: maggiebrisk@cox.net
Send her: Your name, approximate number of master points, and if you are coming with or without a partner. If you are coming with a partner, send her their name and approximate points. If you don't have a partner, no worries – let her know and we will get one for you.