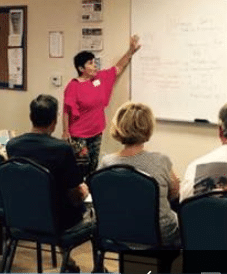 TUESDAY MORNINGS: 0-20 LESSON & GAME
(Beginner)
Instructors: Marti Moss (ACBL Teacher/Director) & Ellen O'Brien

Fee: $10 per game at the door ~ Then stay, enjoy lunch, and play in the afternoon NLM game for just $5!

No pre-registration required
Play and learn as you earn
Masterpoints
.
The class format is a mini-lesson, then play of hands using the material covered in the lesson. Handouts and hand records will be provided.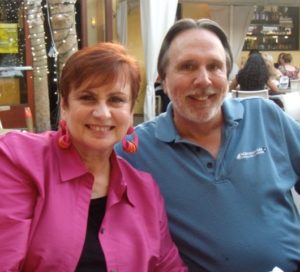 TUESDAY EVENINGS: POST-GAME SHOW
(All Levels)
Instructors: Debbie and Alan Gailfus
Starts after the afternoon game (approximately 4:00 PM)
FREE hand review sessions
All questions are good questions:
the auction

the lead

the offense

the defense
We all learn from each other's questions.
Unless you are consistently playing like a pro already, what's keeping you from attending?
You are cordially invited to join team Gailfus for their FREE hand review sessions following the Tuesday games. Whether you had a great game or a humbling game, there is always much to learn from the insight of top tier players.
Debbie and Alan will help you slice and dice the hands and answer all your questions. Join them on Tuesdays following the afternoon game!
WEDNESDAY MORNINGS: EZBRIDGE 1 (0-20)
(Beginner)
No partner needed. We will give you a great partner.
Fee: $10 for each class you attend ~ Then stay, enjoy lunch, and play in the afternoon NLM game for just $5!

This is the class and game for you, if you are a beginning player, social bridge player, returning to bridge, or just want a good review of newer conventions. We offer a friendly, relaxed atmosphere in which to learn and play. After learning a new convention in class, we then play a game in which we can earn Master Points.
The hands we play reinforce what we are learning by using that convention.
Don't miss out on learning the best card game ever and join us at the tables on Wednesday mornings. Any questions contact Sharon Rippy:
fleurpdlur@cox.net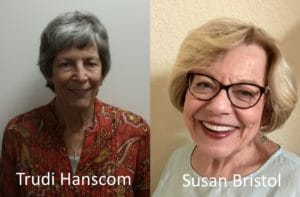 FRIDAY MORNINGS: 99'ER LESSON & GAME

(Beginner and Advanced Beginner)
Instructors: Susan Bristol & Trudi Hanscom
9:00 – 11:30 AM
Fee: $10 for the lesson, game, and great snacks! Then stay, enjoy lunch, and play in the afternoon NLM game for just $5!

No partner needed
Registration is not required
Come and improve your game with a 30-minute lesson followed by a game. Playing more is the best way to improve your game. So, come on out! Get your game on!
These lessons and games are intended for players who have completed beginning bridge lessons and are coming back to the game or for those players who would like a refresher. Half hour review lessons are given before each game.
Please come and join our group. We guarantee you will play. This is a very fun and friendly group. The more you play, the more comfortable you will become with the bidding and the play of the hand.
Contact Susan Bristol at bristolsg949@gmail.com or Trudi Hanscom at t.hanscom@live.com for more information.